Villa Layout
Waking through Villa Kavaya's atrium entrance, you'll step into the large main building where the living areas and the open-plan kitchen are situated. The master bedroom and two of the guest bedrooms are also located in the main building, as well as a guest washroom. In front of the main building is a wide furnished porch that runs along the length of the villa and overlooks a large tropical garden and the 18 x 6-metre swimming pool. To the right of the pool is an impressive wooden balé furnished for lounging and dining.  While the third guest bedroom is privately located in a traditional Gladak building in a far corner of the garden.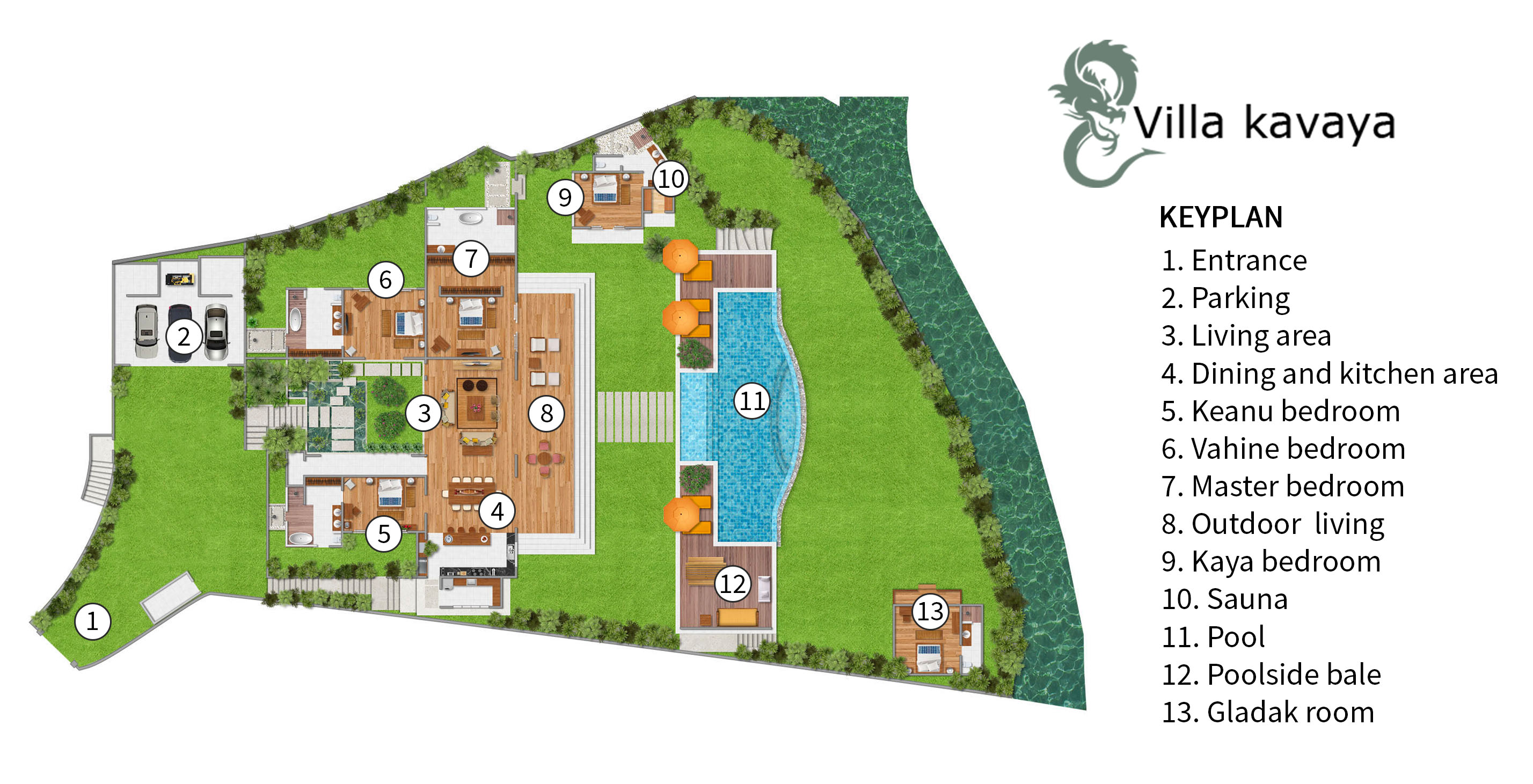 Download in high resolution
Indoor living
Villa Kavaya's indoor living space is nothing short of extraordinary. The scale of its cathedral-like living and dining area is impressive. The handcrafted antique furniture, combined with the cinnamon-coloured teak floors, give this space a lovely depth and an incredible warmth. Lean back into one of the lounge's comfortably wide sofas and let your eyes be guided by the owner's eclectic selection of artefacts from across the Indonesian archipelago, collected over many years.
The dining area has a solid wooden table that seats ten people. It's adjacent to a very spacious open-plan kitchen with a huge island workspace. Its 'Old World' design carefully camouflages sleek modern units with top of the range appliances, including an espresso machine and wine chiller, as well as a beautiful set of handmade cutlery and crystal glassware.
Outdoor living
Villa Kavaya's large atrium entrance boasts a stunning water feature complete with brightly-coloured Japanese Koi carp. The gentle sound of flowing water provides a lovely 'Zen' ambiance throughout the villa's living areas.
A huge porch runs along the length of the main building and oozes 1930s romance. With a choice of rattan chaises longues, a set of original art deco armchairs, and two double hammocks – this is a wonderful spot for sunset cocktails or late-night stargazing. At one end of the porch, a round solid wood table is perfect for alfresco dining.
Villa Kavaya is surrounded by vast tropical grounds, gracefully designed to resemble an old Balinese palace garden. Its meticulously kept lawn is a great place for morning yoga, playing a game of badminton, or simply admiring the lush botanical plants and trees.
The 18 x 6 metre infinity pool is ideal for children to splash around in and long enough for adults to swim laps. It is beautifully shaded by two 150-year-old frangipani trees. An impressive wooden balé at one end of the pool offers plenty of comfortable seating on day beds and bean bags, and provides an excellent hangout for escaping the midday sun, or for enjoying a late afternoon barbecue. 
Bedrooms

Warning: sizeof(): Parameter must be an array or an object that implements Countable in /var/www/html/smarty/libs/plugins/function.contentpart.php on line 44

Master bedroom
Villa Kavaya's master bedroom is spacious and elegant, decorated with an eclectic mix of art and antiques. The room is furnished with a super-king bed, comfortable wicker armchair and a desk, and equipped with air conditioning, ceiling fan, a huge walk-in closet and a flat-screen TV.
The semi-outdoor ensuite has its own private patio garden. This 'palatial' bathroom is fitted with an enormous solid marble bathtub, indoor and outdoor rain showers, as well as a pair of timber vanity units.
Keanu, Vahine & Kaya
These two air-conditioned guest bedrooms in the main building are wonderfully 'vintage' and each overlooks a private patio garden. They both have a super-king bed, ceiling fan and flat-screen TV, as well as a desk area and comfortable armchair. The semi-outdoor ensuite bathrooms are each fitted with a stone bathtub and rain showers indoors and out.
In a separate annex, stylishly decorated Kaya bedroom has a king-size bed, air conditioning, ceiling fan and a flat-screen TV. It also has an ensuite outdoor bathroom with a rain shower. From the bedroom you can step into the adjacent electrically heated sauna, followed by a refreshing dip in the pool located a few steps away.

Gladak

guest bedroom

In this very special guest bedroom you can wake up to the world's best alarm clock – tropical birdsong and the sound of a gently flowing river. Built in the traditional Javanese Gladak style, this gorgeous wooden building is furnished with a king-size bed, air conditioning, ceiling fan and a flat-screen TV. The outdoor ensuite bathroom has a bathtub and a separate rain shower.